World Class Attended and Online Mastering Studio!
We set up our dedicated mastering studio in the heart of Hamburg in 2005. Powered by the finest equipment and professional expertise, we've successfully guided numerous albums into the charts for more than a decade. In fact, productions we've mastered have achieved Gold, Platinum and Multi-Platinum status.
In our daily studio routine we combine the unique colour of analogue gear with the analytical precision of state-of-the-art plugins for harmonious, natural-sounding results. Whether you choose attended sessions or online mastering services, the precision and quality are the same.
Our team of perfectionists, music lovers and audiophiles also offers you the opportunity to join mixing sessions where we work exclusively according to your unique love of sound.
Nice that you finally found us. Your search is over!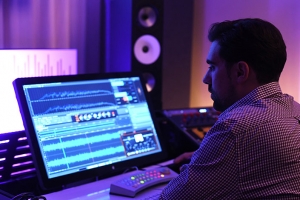 Maximilian Hardinghaus
Owner, Mixing & Mastering Engineer